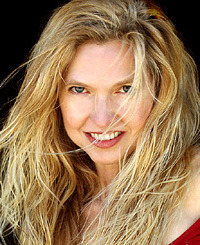 Cedar City - Love Creature will debut their new sound at the CD release party, which they are combining with the Aug 2nd performance at the free Summer Concert in the Park Series in Main Street Park.
Stepping away from the traditional singer/songwriter model that Karyn Whittemore has become so well known for in the past, her new ensemble Love Creature, offers a bit of a harder edge for eager fans to sink their teeth into from the seasoned professional.
A nurse practitioner by day and a rock star by night, the music on Love Creature's self titled CD is almost as eclectic as Whittemore's range of professions. The sweet melodic tone of her sexy voice easily transforms in styles from one song to the next in a culmination of sounds that leave the listener wanting to hear them again and again.
From "Telescopic Jigger Rod" to "Razorback Wilde" to "Yesterday's Girl," each has its own unique flavor that either energizes the listener or soothes them depending on the mood they're in when they pop it in the changer.
Although the album has a variety of sounds that differ from one another (almost drastically at times) there is a natural evolution that take place between each new sound that makes the album flow. While it's unusual in today's music market to find such a flexible and versatile compilation of songs that appeal to one audience, Love Creature flawlessly leads one song into the next leaving a feeling of unity to what could have been a slightly disjointed album.
Whittemore said the name change was a natural evolution to her writing style. She said that since her sound had shifted and was being pushed in an edgier direction, she wanted to play off of that. she also said her name had marketing difficulties like spelling and the new name would make it easier for fans to find her on the internet while doing a web search.
Whittemore said she can't really explain why their was a shift in her sound. She said that the music flows from her in such an orgainc way that she becomes more of a conduit to something that is more ethereal than just her rambling thoughts. It's as if a muse suddenly inspires her, she said.
"When I start to write a song, I will first fall in love with some melody," Whittemore said. "A lot of times, I don't even know what the lyrics are at that point."
Whittemore said once she has a strong melody she waits patiently while she plays with it in her head, until one day, the lyrics and the song just reveal themselves to her.
Drummer Shawn Owens said he has been playing with Whittemore for about three years, and he has enjoyed watching her music develop into the sopisticated and sultry sound that debuts in the new Love Creature CD. He said this is an album that offers something for every listener, and he hopes to see a good turnout for the CD release party August 2nd at 7pm in the Main Street Park.
More information about the new CD and Love Creature is available at www.lovecreature.com.