In the mountains of Southern Utah nestled in the small mountain town of Cedar City forty five miles from the nearest Costco where not far away gun wielding survivalists dwell in the red rock desert, and new prophets are found on the dusty back roads, singer songwriter Karyn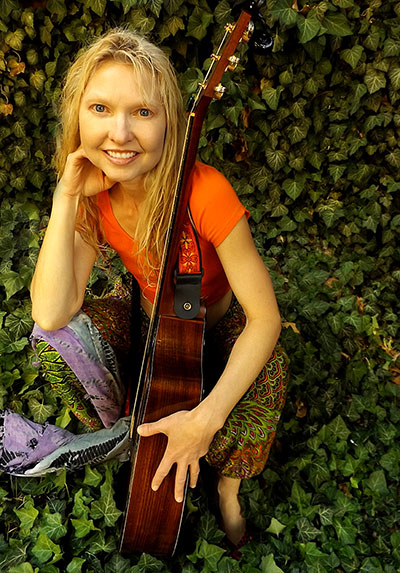 Whittemore has emerged from the desert mountains with a different view. With influences from artists like Kate Bush, Jewel, Lou Reed and Sarah McLachlan, Karyn's songs are passionate and sometimes a little quirky with occasional spiritual to mystical overtones. Karyn contrasts her soothing picking style on the acoustic guitar by paying homage to her classical roots on the baby grand.

It's hard to pigeonhole Karyn's sound as it rapidly evolves from one form to another.  As soon as you think you've got a bead on it, it's over there. Wait, no, it's over there. She pleases crowds from motorcycle rallies with her band Love Creature to the classiest acoustic venue as a solo performer.  Both ends of this spectrum have collided into her current incarnation thanks to the Boss RC-300 loop pedal.  She emerged from this collision as Love Creature.  Not to mention, the domain name was paid for and the website already designed.  How convenient is that?  Love Creature? What's that? Is it some kind of sex thing?  Does she work a stripper pole because I think I saw her at the Cheetah in Vegas?  Well, no.  It's really more of a Buddha Chi thang that started as a nick name for her 20 lb cuddle bear black cat, that evolved into a bitch'n name for a band which evolved into a solo act.  To put it simply, Love Creature is music for your soul.  With angelic vocals, could it be anything else?

Sometimes people look at me in disbelief when I try to explain she doesn't play with prerecorded backing tracks.  Everything you hear during a song is created during that song live.  This allows her to interweave complex vocal harmonies that match the lead vocal perfectly producing a full arrangement.  It's really too bad because I've heard some amazing performances just disappear into the ether because as soon as the song is over it's deleted.  That's why seeing her live show is such an experience.  What you hear is a live recording session that will never be heard again.  It's like an album on snap chat. Viewed once, gone forever.  It's all pretty simple.  If you can process an additional hundred things at once while at the same time doing what any professional singer songwriter does singing and playing the guitar, you can do what she does.  She refuses to play with prerecorded tracks.  It's the difference between being an artist and doing Karoke.  It's different.  It's unique.  You need to see it.  The show you will see is like a comet, it won't be seen exactly that way again.   

Karyn has released three albums and has been nominated for Best Album and Best Song of the year by JPF and also Best New Upcoming Artist by New Artist Radio. She topped the charts for many months during the heady days of mp3.com and established herself as a formidable internet presence. She plays piano, electric guitar, acoustic guitar and violin. She comes from a classical background attending SUU on scholarship for violin. Karyn is the songwriter, producer, vocalist, guitarist, pianist and violinist on her albums.

Aside from local airplay in her region, she's been played in remote regions of the earth like Zimbabwe, and the legendary DJ Lord Litter in Germany loved her saying "Many thanks - wonderful!! - it's releases like yours why I do all I do .. that keep me going!" .   She has also had music placed in a film.  If anyone ever finds it in a film, please let her know as she would be curious to see it or at least know the title of it.  She only has a 25$ check from BMI as evidence of it.

As one fan stated: "The last time I was this impressed with a band I'd never seen before was back in 1972 at the Santa Monica Civic Auditorium. We had never heard of the opening act, but they blew us away, much like last night's show at Cravings. Karyn is a multi-talented songwriter/musician/performer. She is definitely going places. Oh yeah, that opening act I spoke of was a group called the "Eagles" doing their first live performance."  Well, it's hard to go places when you're already standing in your chosen destination, but she appreciates the sentiment.  On any given week you can find her performing at The Shed her own personal concert venue in the heart of Cedar City.
Photo courtesy of Dawn Aerts