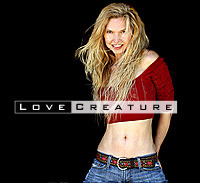 Karyn Whittemore has been a part of the Southern Utah music scene for some time and has even played Cedar City's Groovefest twice - most recently for the 2012 Best of Groovefest show.
Her latest project, "Love Creature," finds Whittemore in band form collaborating with drummer Shawn Owens, guitarist Tyson Cazier and bassist Ryan Sargent. With John Houston producing and adding his master's touch with a variety of instruments, you know it's not your run-of-the-mill local recording.
Houston plays instruments as diverse as accordion and organ. His mandolin work is especially notable on the intese "Breathe and Burn."
The first few tracks are full of crunchy guitars and Whittemore's rock goddess wails. She has the ability to rock and does it well, but she's even stronger when she doesn't. Whittemore's true strength lies in how she beautifully delivers melodies on the softer tracks like the sublime "Sweetest Little Angel."
Whittemore's voice is the star here. She purrs on some, growls on others or simply has fun with cute tracks like "Just Friends" or "Your Right to Be Wrong." She also shows her musical abilities by playing a variety of guitars, piano, and even violin on a few tracks, joining Michael Wager's cello on the mysterious "Spirits of Earth."
Contact Brian Passey at bpassey@thespectrum.com/getlost. Follow him on Facebook at www.facebook.com/PasseyBrian or on Twitter@BrianPassey .