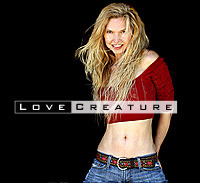 Flimteen or so years ago, I was offered the cool opportunity to edit this paper, and one of my first orders of business was to make the pleasant drive up to Cedar City to get the goods on the lovely and talented singer-songwriter Karyn Whittemore. Coincidentally, her lavish penthouse loft featured a marvelous view of the very neighborhood where I grew up. Karyn W. offered tasty samplings of her music - a terrific blend of pop smarts and filigreed whisps of the kind of technical skill that explain the music degree on the wall and guitar licks that give her songwriting its "off the wall" charm.
You're probably thinking, how does a classically trained violinist and pianist evolve into a "Love Creature"? Well, that's where I come in to explain.
As a fellow songwriter, I'd like to first tip my hat to Miss Whittemore for her inspiring longevity in a music scene that has all the stability and support as Lake Ponchatrain. During my tenure as editor of the Indy, I saw support come and go for short-lived scenes and audiences that rarely broke 20 heads and might best be described as inconsistent and fickle - particularly of its own local artists. Allow me to qualify that by stating that there are certainly notable exceptions to this rule - especially in Cedar City - but it is certainly a truism that those who have made serious efforts as career musicians have had to relocate. Karyn is as significant an exception as one could name.
The first five songs on Whittemore's new album "Love Creature" (and several others sprinkled in during the final 10) are most definitely a departure from what you've come to expect from a KW record. Karyn has always had fun with sensuality in her lyrics, and as you might surmise, "Love Creature" kicks up the "Pink Panties" ante. The first five tracks bristle with her Love Creature lyrics, as well as up-tempo, band oriented songs that have a certain retro feel - harkening back to the seminal bands of the new wave days (i.e., Blondie, B52s and even Nico era Velvet Underground). Then, just when you're getting used to a whole new Creature, Karyn reverts back to her classic sound, with the lovely interplay between acoustic guitar, violin and haunting vocals. The band is still playing but not so much in your face on the majority of the final 10 tracks.
Happily, these more typical songs boast what I think is far and away some of Karyn's best work as a tunesmith and lyricist. Scarce is there a track that doesn't furnish the listener with a memorable chorus hook nicely nested within the production of John Houston, who also contributes on electric guitar, accordion, madolin, and Hammond organ. The band features Tyson Cazier on lead guitar, Ryan Seargent on bass and Shawn Owens on drums - late of Passion Pit, who shine on the first handful of songs before getting lost in the mix on the remaining 10 tracks.
I suppose some critcis might point out that "Love Creature" can't decide what kind of album it wants to be, but I'm just happy to have such a wealth of great new material from one of our most reliabel local artists. Perhaps 15 tracks is a bit overkill, but being a songwriter I know that your songs are very much like children, and to suggest that one shoul be clipped is not unlike saying, "Boy, you have a charming family except for that funny-looking short one with the glasses."
I was first introduced to KW's talent with her debut EP "Unborn Sky," and a handful of years later with her masterful "Slippery Road," that nicely demonstrated her unique voice, going from her ethereal gossamer thing to a bluesy gutty grit. With her ability to craft catchy tunes while weaving gifted interplay with piano, guitar and violin, I recommend you make a point of seeing Love Creature live or see about getting your hands on one of KW's four releases.